Looking for a REIT for your portfolio? Want the best REIT? The reality is that REITs can have different focuses and therefore more than one can fit the bill thus allowing you to diversify your portfolio. You might not be aware but there are 37 Canadian REITs trading on the Toronto Stock Exchange (TSX). However, only 18 have a market capitalization above $1B.
Canadian REITs
Let's start by looking at the full list of REITs and then drill down from there. The Canadian REIT sector has 7 industries to which a REIT belongs to based on the services they provide. Knowing the industry they serve is quite important as it highlights what can influence their business.
I admit that I was pretty surprised to find 37 REITs in total. That's a lot of real estate income trusts to filter through. Choice Properties is one of the most recent REIT created by Loblaw out of its real estate assets. I sorted the list by market capitalization rather than yield. A REIT has a high yield just by the nature of the REIT and I am not looking for the REIT that pays the most but the REIT that will serve me best in the following criteria:
Most Canadian REIT investors will have the same criteria with different priorities but they are pretty standard. Below is the breakdown of all Canadian REITs by industries.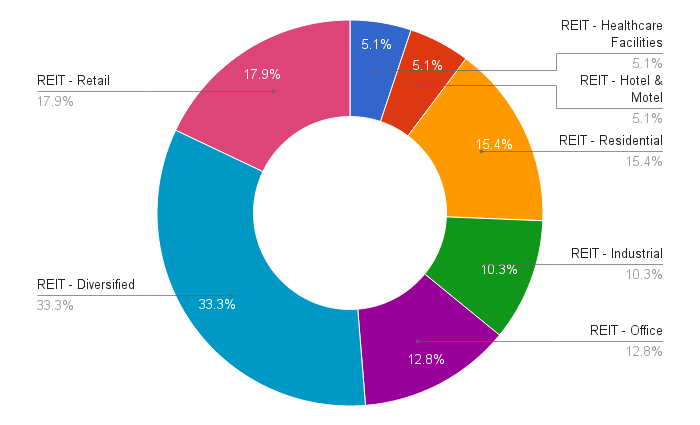 Click here to get your own spreadsheet
---
Best Canadian REITs
To find the best Canadian REITs fitting my criteria, I choose to go through the following steps.
Filter the REITs based on my investing criteria
Get a better understanding of the filtered companies
Review their FFO (and AFFO) – That's one of the most important metrics with REITs
Get all the details you need to make an investment decision with the Dividend Snapshot Canadian REIT List. A comprehensive list of metrics and a payout ratio calculated based on the company's FFO. Don't be fooled by the highest yield and get the right fit for your portfolio and income.
Related: Understanding REITs
Filtered Down Canadian REITs
I decided to eliminate the little players. They may well have a lot of growth but I want an established REIT of at least $1B in market capitalization. With that criteria, they can have funds to expand and play in the big cities. That leaves us with 16 REITs.
For the purpose of my selection, I will go with $1B as a minimum market capitalization. I am going to exclude the industrial REIT industry as I don't understand that industry. Healthcare is also not a REIT I understand. There is definitely a growing market but I am not sure how the business model works. It leaves me with the list below sorted by market capitalization.
Click here to get your own spreadsheet
Understanding the Filtered Canadian REITs
Now comes the hard part. The easy filtering is done. I could easily remove those with a yield under 5% but I am curious if they grow their yield and what the properties actually are. If you have Wal-Mart as a renter, the chances of long-term business are much stronger than having an arbitrary small business. Personally, I have invested in both REI.UN and CUF.UN in the past. See my portfolio holdings for details. At this point, I think many of those investments have their own strength but the best of the breed has been RioCan for many years according to many analysts.
RioCan  REIT
The biggest value in RioCan are the tenants. They include Walmart, Canadian Tire, Cineplex, the Metro Chain, Winners, Loblaws, and Target to name a few. Those top tenants represent 20% of the rent with 50% of their revenue coming from Ontario while having exposure across Canada. The downside to RioCan is that their distribution has been flat.
H&R REIT
H&R Reit is well diversified across Canada with 20% of their assets in the US. Their portfolio includes
42 office properties
167 retail properties
112 industrial properties
2 development projects
Their distribution has seen regular increases which is attractive for an investor. This is not something that RioCan has done. Their tenants are mostly corporation when you compare with RioCan which includes
Encana Corporation
Bell Canada
Hess Corporation
TransCanada Pipelines
Telus Communications
New York City Department of Health
Giant Eagle
Canadian Tire
Bank of Nova Scotia
52% of their revenue source comes from corporations. I would be curious to know which pays more, a retail tenant or a corporate tenant. I am quite impressed with H&R REIT.
Smart REIT
This is a shopping mall nirvana with a 99% occupancy. In terms of the tenant, Smart REIT provides space for 82 Walmart stores. That might be the next best thing to investing in Walmart itself :)
Smart REIT is definitely operating in the same space as RioCan. The tenants are similar and it comes down to their operating abilities.
Boardwalk REIT
Being a REIT focused on residential, I feel it is a riskier business than a corporate and retail real estate. Job markets will impact this REIT and it will probably be more impacted than retail and commercial REITs. It's my gut feeling since corporations can usually stay in the same location even with fluctuating personal count but a job loss can have an immediate impact on residential rent. With that said, at over $2B in market capitalization BEI.UN has definitely been able to manage employment concerns for the renters and reduce their costs over time.
The dividends don't see much movement but the stock has definitely appreciated over time. If you are thinking of managing the rental property on your own, you might want to consider BEI.UN but if you are looking for income from REIT, I would pass on this one. I can assume that the yield is lower due to the regular increase in value over time.
Comparative AFFO
The adjusted funds from operations (AFFO) is the true metric you need to look at for REITs as it highlights how well they can pay their shareholders. A company with an AFFO below their payout means they can't keep up paying the shareholders. A REIT that can increase their AFFO will be able to increase their distribution to shareholders.
What's the right target? I think that anything above 90% for a sustainable period of time is a warning sign.
Canadian REIT ETFs
If you find it to difficult to invest in a specific REIT, you can always buy a Canadian REIT ETF. Be sure to look at their holdings as they may only hold a subset of the REITs.
iShares S&P/TSX Capped REIT Index Fund 

TSE:XRE

BMO Equal Weight REITs Index ETF 

TSE:ZRE

Vanguard FTSE Canadian Capped REIT Index ETF 

TSE:VCN
The above mentioned ETFs are probably the best Canadian REIT ETFs at this point in time. However, be on the lookout as most financial institutions are entering the ETF market and they should all be creating their own in due time.
Canadian REITs Summary
I will admit that it's impressive to see the number of REITs available in Canada. I was pretty surprised at the business of H&R REIT with their corporate tenants and the amazing setup Boardwalk REIT has with its residential monopoly. In the past, when I first purchased REITs, I had no understanding of the AFFO and since I learned about that metric, it will change how I evaluate REITs forever.
Click here to get your own spreadsheet
You HAVE to read their financial report for the year-end. It's not just raw numbers. It highlights their businesses and strength. You get to understand the strength of their sector.
Which is the best Canadian REITs? Well, it really depends on your goals. Do you want to see dividend growth? Some of them have it. Do you want to only pick below 90% AFFO payout? Some of them fit the bill. Do you want to see growth in value? Some of them have it. Do you want high income? Some of them have it.
As you can see, there isn't just one Best Canadian REIT. There is a best Canadian REIT for your portfolio based on your criteria. Are you nearing retirement? Are you starting and diversifying?
If you are new to REIT investing, you need to understand REIT taxation prior to making a purchase. The account you decided to use has a big tax impact.
Sector Classifications
Sector classification is driven by a set of standards across North America, stock market and indexes. There is a specific company classification referred to as NAICS (North American Industry Classification System) managing a set of classifications. Statistic Canada is also a partner with defining the NAICS with company counts for different classifications.
While the company classification is critical to understand the evolution of industries, it is by far too detailed to manage for investors and all companies can be grouped under a sector. The best visual tree I could find is under Wikipedia's Global Industry Classification Standard.
| Sectors | Industries |
| --- | --- |
| Basic Material | Chemicals, Construction Materials, Containers & Packaging, Metals & Mining, Paper & Forest Products |
| Communication Services | Diversified Telecommunication Services, Wireless Telecommunication Services |
| Consumer Cyclical | Auto Components, Automobiles, Household Durables, Leisure Products, Textiles, Apparel & Luxury Goods, Hotels, Restaurants & Leisure, Diversified Consumer Services, Media, Distributors, Internet & Direct Marketing Retail, Multiline Retail, Specialty Retail |
| US Consumer Defensive Sector | Food & Staples Retailing, Beverages, Food Products, Tobacco, Household Products, Personal Products |
| Canadian Energy | Energy Equipment & Services, Oil, Gas & Consumable Fuels |
| Financial Services | Banks, Thrifts & Mortgage Finance, Diversified Financial Services, Consumer Finance, Capital Markets, Mortgage Real Estate Investment Trusts (REITs), Insurance |
| US Healthcare | Health Care Equipment & Supplies, Health Care Providers & Services, Health Care Technology, Biotechnology, Pharmaceuticals, Life Sciences Tools & Services |
| US Industrial Sector | Aerospace & Defense, Building Products, Construction & Engineering, Electrical Equipment, Industrial Conglomerates, Machinery, Trading Companies & Distributors, Commercial Services & Supplies, Professional Services, Air Freight & Logistics, Airlines, Marine, Road & Rail, Transportation Infrastructure |
| Canadian Real Estate | Equity Real Estate Investment Trusts (REITs), Real Estate Management & Development |
| US Technologies | Internet Software & Services, IT Services, Software, Communications Equipment, Technology Hardware, Storage & Peripherals, Electronic Equipment, Instruments & Components, Semiconductors & Semiconductor Equipment |
| Utilities | Electric Utilities, Gas Utilities, Multi-Utilities, Water Utilities, Independent Power and Renewable Electricity Producers |
DISCLOSURE: Please note that I may have a position in one or many of the holdings listed. For a complete list of my holdings, please see my Dividend Portfolio.
DISCLAIMER: Please note that this blog post represents my opinion and not an advice/recommendation. I am not a financial adviser, I am not qualified to give financial advice. Before you buy any stocks/funds consult with a qualified financial planner. Make your investment decisions at your own risk – see my full disclaimer for more details.
Join 5,300+ Investors & Build a Winning Portfolio