Most portfolio over time will highlight core holdings based on the investor's strategy. It will naturally happen mostly because those are the stocks you end up favouring. The core holdings in your portfolio are like your safe haven. You know your money is in good hands and you always trust those companies.
Below are two companies I want to highlight as potential core holdings. I am sure there are others that can fit the bill but I have come to find that those 2 companies have performed remarkably well and have sustainable and necessary business models.
Canadian National Railway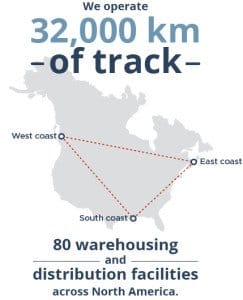 The railway is by far the best method of transporting goods in North America. Goods arrive on either coast and must make its way everywhere. CNI (or CNR) was not always on my purchase list as its dividend yield is usually just around 1.50%. It's not an attractive dividend yield but when I discovered that the dividend growth for the company passes the criteria for the 10-10 dividend investing rule, I looked further into the dividend growth.
Think about it, if the dividend yield stays constant at around 1.50% but grows by 10% on average per year then the stock must appreciate. What's not to like in a growing stock? … and getting paid a growing income along with it. The dividend may not be as much as other dividend payers but the stock appreciation makes up for it.
What makes this stock a core holding is the business model. The vast lands we have in North America still make railway the most effective way to move goods. As it happens, CNR has a vast railway network and much more to support its core railway business. As demand grows through population growth, so will the need to move raw materials and products to and from ports.
Not only is the business sustainable, there is room for expanding internationally to service the growing import/export business.

There is definitely a need to monitor the earnings for good entry points but this is a stock I am happy to buy on dips. I have written about railway stocks in the past to identify the best railway stocks for both US and Canadians. At this point, I still favor Canadian National Railway.
CNR has an impressive 16.60% dividend growth over the past 10 years and still only has a 32% dividend payout ratio. Often times, you want to make sure the dividend growth is not fuelled by an increase in the dividend payout.
Enbridge
Another company with a solid business model and a consistent ability to grow. In simple terms, ENB delivers energy. It's not in the drilling business, it's not in the refining business, it's in the transportation of energy. More precisely, it transports liquid, natural gas, and electricity. On top of that, it is also a utility company in Ontario which provides it with a regulated business.
Here is what their pipeline looks like and what it covers. It should speak for itself.
Through its pipeline, ENB has been able to deliver a little over 11% in dividend growth on average for the past 10 years. That makes ENB a candidate for the 10-10 rule of dividend investing. Along with the dividend growth, ENB boasts a really strong 17% CAGR as well.
While the price of entry is different for everyone. I strongly believe they both can be considered a core holding for any dividend income portfolio. These blue chip stocks are large conglomerate with an economic moat and a handful of competitive companies – often time regulated or with limited ability to allow for new entrants (think railway). Enbridge tends to have a more generous yield than Canadian National Railway but they both have consistently delivered dividend and stock growth.
Image: Master isolated images / FreeDigitalPhotos.net
Join 6,000+ Investors & Build a Winning Portfolio