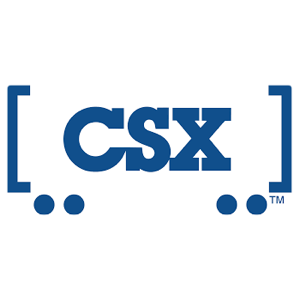 CSX Corp is a premier transportation company based in Florida. It provides services like traditional rail service and the transport of intermodal containers and trailers. It operates through its various subsidiaries like CSX Transportation, CSX Intermodal Terminals, Total Distribution Services, CSX Technology, etc.
As a leading rail-based transportation supplier CSX Corp. runs 21,000 route miles of track in 23 states, the District of Columbia and the Canadian provinces of Ontario and Quebec. It serves major markets in the eastern U.S. and has access to over 70 water port terminals along the Atlantic and Gulf Coasts, the Mississippi River, the Great Lakes, and the St. Lawrence Seaway. The company also has access to Pacific ports through its alliance with western railroads.
CSX moves a broad portfolio of products such as chemicals (20%), coal (19%), intermodal (17%), agriculture & food (11%), automotive (11%), forest products (7%), metals & equipment (7%), fertilizers (4%), and minerals (4%) across the country. The company served three primary lines of business: merchandise (41% of volume), coal (14%) and intermodal (45%) in 2018.
Investment Data
Revenue Growth & Market Exposure
CSX's transportation network serves some of the largest population centers in the nation and the company is in a good position to benefit from nearly two-thirds of Americans that live within its service territory. The company's access to several ocean, river and lake port terminals allows it to meet the dynamic transportation needs of diversified customers in the manufacturing, industrial, automotive, construction, farming, and energy industries. Its intermodal business links customers to railroads via trucks and terminals.
CSX has a rich heritage of 190 years. The company is known for its efficient services and safe deliveries. Shippers typically select transportation service providers that offer the most compelling combination of service and price. As a result, CSX has established a large base of sticky customers. The company provides its customers with access to an expansive transportation network that plays a key role in North American commerce. CSX continues to streamline the rail network, increase its organizational efficiency and improve its operating performance over the years. Revenues increased by 7% in the last year.
Freight railroads provide an economical and environmentally efficient means to transport goods over land. With rising environmental concerns, CSX is better placed to cater to the increasing transportation needs of large industries. CSX Corp. is transforming its operating model to scheduled railroading, which emphasizes on optimizing assets, offer better customer service, reduce costs and improve free cash flow generation. The company has a capital expenditure target of $1.6 billion to $1.7 billion for the full year 2019. CSX also reaffirmed low-single digit revenue growth outlook for full year 2019.
Dividends
CSX returned more than $5.4 billion to its shareholders through dividends and share repurchases in 2018, almost double that of 2017. The company has authorized $5 billion share buyback program through the first quarter of 2019. It currently sports an average annual dividend yield of 1.4% and has a very low payout ratio of 23%. CSX Corp. is a Dividend Achiever. The company last raised its dividend by more than 9% and has grown its payout at the rate of 13% CAGR in the last decade. Earnings have also grown at a rate of 13% CAGR over the last ten years.
CSX registered a 17% improvement in train velocity and 14% improvement in terminal car dwell, annually which will lead to service and efficiency gains and improve reliability over time. The company is continuously engaged in improving its asset efficiency.
CSX met and even exceeded its financial goals for the second consecutive year in 2018. The company achieved an operating ratio of over 60% in the last year. Adjusted EPS grew by 67% and adjusted free cash flow improved by 88% during the same time. A diverse revenue base further adds to cash flow stability. Ownership of extensive railroads, a huge base of sticky customers and a strict regulatory environment offer a deep moat to the company.
Competition
The railroad industry is highly competitive. CSX's major competitor is Norfolk Southern Railway, which has operations throughout most of CSX's territory. The company also competes with other railroads that operate in parts of its territory. CSX is one of the safest railroad companies in North America and continues to undergo increased training and employee safety programs to retain its leadership position in the industry.
While there is local competition to worry about, there is also an overall business competition in the railway world with the following six players across North America: CSX, NSC, UNP, KSU, CNI, and CP.
Bottom Line
CSX Corp. provides services in the movement of critical goods across multiple industries. The company is favorably placed to leverage its leading position in the railroad industry and benefit from growing trade and commerce. Its impeccable reputation for safe and sound movement of goods and on-time deliveries have made it an obvious choice for its customers.
CSX is well positions to continue to profit from the movement of goods by having established railroads in highly populated areas and with a connection to many ports. Think about it, even if the goods come from the West Coast, they still have to get on one of those railways and pay a toll and since the majority of the population is on the East Coast,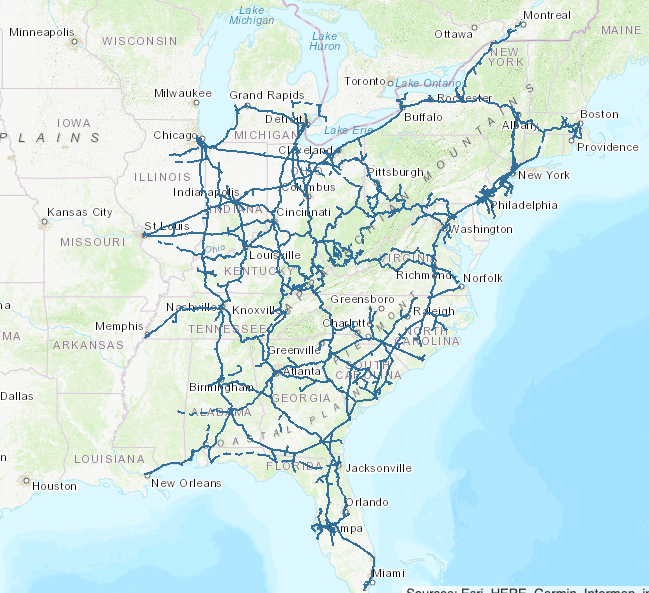 DISCLOSURE: Please note that I may have a position in one or many of the holdings listed. For a complete list of my holdings, please see my Dividend Portfolio.
DISCLAIMER: Please note that this blog post represents my opinion and not an advice/recommendation. I am not a financial adviser, I am not qualified to give financial advice. Before you buy any stocks/funds consult with a qualified financial planner. Make your investment decisions at your own risk – see my full disclaimer for more details.