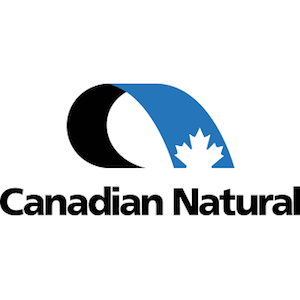 Is Canadian Natural Resources TSE:CNQNYSE:CNQ stagnating or is their growth on the horizon? The stock is up 7.99% over the last 10 years and 24.22% over the past 5 years. Will there be growth or is it a stock you buy during the lows?
CNQ has shown up on my watch list on and off over the past decade and the dividend trends are excellent but I am curious why there isn't growth in the stock over the past 10 years. As a long-term dividend growth investor, my goal is to buy a company that will pay growing dividends with stock appreciation. At this point, there has not been stock appreciation unless you bought during a 52-week low which is more like timing the market than buying a long-term holding for growth. Is that acceptable to simply buy on the dips?
See the graph below comparing Enbridge TSE:ENBNYSE:ENB and Canadian Natural Resources to capture the difference between stock appreciation and little growth.
CNQ – Business Overview
Canadian Natural Resources is one of the largest independent crude oil and natural gas producers in the world. The company continually targets cost-effective alternatives to develop projects and to deliver a defined growth plan to create value for shareholders.
CNQ has an effective and efficient, diversified combination of assets in North America, the North Sea, and Offshore Africa, enabling the company to generate significant value, even in challenging economic environments.
The balanced mix of natural gas, light crude oil, heavy crude oil, bitumen and synthetic crude oil ("SCO") represents one of the strongest and most diverse asset portfolios of any energy producer in the world. The Company is transitioning to a long-life, low decline asset base which provides increasing and sustainable free cash flow.
CNQ – Today's Numbers
Ticker:

TSE:CNQ

NYSE:CNQ

Stock:
$40.49
P/E:
 29.78
Annual Dividend:
$1.10
Dividend Yield:
2.72%
Payout Ratio:
100.00%
Market Cap:
49.19B
Sector:
Energy
Industry:
Oil & Gas – E&P
Technicals:
CNQ – Analysis Summary
There are 4 quantitative rules in the stock selection filtering I use to support my 7 Rules of Dividend Investing. As an investor, once you have mastered the Wealth Triangle, you must then master the Dividend Triangle and finally establish your Stock Selection Process.
The rules covered are outlined below as a summary of the reasoning followed by the company's analysis for each rule.
| | | | |
| --- | --- | --- | --- |
| Dividend Rule | Sustainability Rule | Accounting Rule | Quality Rule |
| | | | |
Dividend Rule - Dividend Growth
Dividend growth is expected when a business makes money but since not all dividend growth is equal, we must establish thresholds that work for our investing goals. In the accumulation years, I aim for a 10% CAGR dividend growth and in the income years, 5% CAGR growth is acceptable. A dividend drop should be an immediate sell unless there are special circumstances out of control by management.
If you aren't thinking about owning a stock for 10 years, don't even think about owning it for 10 minutes.
Sustainability Rule – Revenue Growth
A company without growing revenue cannot sustain paying back shareholders for too long. It's normal to see variation from year to year but over a longer period of time, there should be growth.
It's far better to buy a wonderful company at a fair price, than a fair company at a wonderful price.
Accounting Rule - Payout Ratio Stability
The payout ratio validation over a 10-year period really highlights how the company's bottom line can sustain the dividend it pays. Investors should be cautious when the payout ratio increases faster than the bottom line as growing revenue is not the source of dividend growth.
The secret of sound investment in 3 words; margin of safety.
Quality Rule - Business Quality
The business quality is an important factor to consider to ensure your investment is viable for the long term. A strong business that has been around for a long time and is expected to be around for a lot longer is a good business.
Know what you own, and know why you own it.
Value Rule is a potential 5
th
qualitative rule you can add on your own. It's not based on numbers as it requires a more intricate knowledge of the company, its business and the markets. Consider how many analysts are following companies and how many are wrong in predicting stock price movement. Not to mention how difficult it can be for some companies to have accurate forward guidance when you take into account currency exchange and world economies. I have opted to not predict entry level. I have done as good buying at the 52-week high.
Twenty years in this business convinces me that any normal person using the customary three percent of the brain can pick stocks just as well, if not better, than the average Wall Street expert.
Dividend Rule – CNQ Dividend Growth
As a Dividend Achiever with 10+ years of dividend growth, CNQ has established itself as a dividend grower and a Dividend Ambassador with over 10% dividend growth over the past 10 years.
The dividend growth trend over the past 10 years is as follow:
3-year: 17.80%
5-year: 21.16%
10-year: 20.14%
The current dividend yield is 2.72% compared with a sector average of 4.11%. The yield is not low but not in line with the sector. If we eliminate small-cap energy stocks with high yields, the peer average is 3.61% Still lagging other stocks but not far behind.
The current dividend yield and dividend growth for CNQ meet the dividend rule requirements but there could be better options. The Chowder Rule score also is off the chart at 20.61% and above my 12% target.
Growth Rule – CNQ Revenue Growth
While the dividend yield and growth is excellent, it's important to make sure it can be sustained over time. The EPS trend is not very good from a growth perspective and CNQ struggles with consistent growth. That is certainly due to the price volatility of oil over a long period of time.
The compound growth rate of the EPS is practically non-existent when you look at the numbers below.
3-year CAGR: -100.00%
5-year CAGR: -100.00%
10-year CAGR: -100.00%
In this case, cash flow from operations could be a better number to look at considering it does generate enough cash to cover the dividend. As you can see below, the cash is still going down so it's not good.
As an oil company, we need to look at oil prices and it's clear that the cash flow drop is tied to the oil prices. What can we expect for the oil prices? I cannot tell, it's too complex to forecast, let alone the impact of mother nature.
Unfortunately, the oil impact and lack of growth amidst the oil price challenge is a fail for this rule. Often times, the prices of oil are locked in before we see a reduction in the price leading to a delayed impact on the revenue.
While Canada has oil, it can be more expensive to drill and the oil prices impact growth for the new oil patches. There was a massive amount of development when the price of a barrel was at $100 as numbers and opportunities were seen except greed took over any stress test that should have been done. I am a believer that oil companies should stress test their business with lower oil prices as part of their earnings.
Unfortunately, the company forecast the production of barrels, which is important, but not the price of oil. They have to be managing it but it's not clearly outlined past 1 year. Here is a snippet from the latest quarterly report on their management of prices:
The Company's commodity hedge policy reduces the risk of volatility in commodity prices and supports the Company's cash flow for its capital expenditure programs. This policy currently allows for the hedging of up to 60% of the near 12 months budgeted production and up to 40% of the following 13 to 24 months estimated production.
Unfortunately, none of these policies can predict what the future can bring and it's not clear if growth can be predicted easily. It's important we assess if the $100 is a blip or something we can expect again. OPEC has had challenges in agreeing to prices and production quotas and the Middle East can still drive prices down. See the graph below on the history of prices and predictions from the U.S Energy Information Administration.
The point I am trying to make by discussing oil pricing is that it is very challenging to establish the future price of oil which energy companies rely on to grow their top and bottom lines. In the end, I prefer the transportation of energy, it's based on consumption rather than speculation, war, natural disasters or diplomacy.
Accounting Rule – CNQ Dividend Payout Ratio
I generally like to look at EPS vs dividends but in the case of CNQ, I need to add cash flow from operations in the analysis due to the business structure.
The EPS doesn't look good and shows the company's dividend cannot keep up.
Looking at the cash flow from operation (CFO), it paints a similar picture for the last few years. Clearly, the impact of oil prices has affected both metrics but the dividend payout against cash flow is much better and healthier.
Since the business uses cash flow to pay the dividend and it is low in the 25% range, I give CNQ a passing grade for this rule.
The S&P Global does not rate CNQ but Moody does with a 'Baa3' rating.
A Baa3 rating represents a relatively low-risk bond or investment; banks are allowed to invest in Baa3 rated bonds.
Quality Rule – CNQ Business Quality
Canadian Natural Resources is a conglomerate in Canada at $49B in market capitalization giving the company an advantage over the smaller players.
I would like to say that competition is limited but so many companies were created to drill the oil sand patches that it did not seem too difficult to enter the market. With lower oil prices, CNQ and other large players have had opportunities to buy some of those smaller competitors to access the land.
Due to its size and quality of assets, CNQ passes the business quality rule.
If you're prepared to invest in a company, then you ought to be able to explain why in simple language that a fifth grader could understand, and quickly enough so the fifth grader won't get bored.
CNQ – Snapshot Opportunity Score
Following the Snapshot Opportunity Score, Canadian National Resources TSE:CNQNYSE:CNQ has a score of 73% (the higher, the better) for being an investing opportunity. Above 60% is a good range to pay attention to an opportunity. Anything around 80% would have a short window of opportunity unless the stock got beaten down for other qualitative reasons. See my Easy Stock Selection Process for more details on selecting stocks.
I have mixed feelings about Canadian Natural Resources. The dividend growth is excellent but there is no overall growth to be perceived outside of acquisition which has a cost in the short term. The EPS and cash flow from operations are on a downtrend. The pressure comes from the price of a barrel of oil and there is no way to control that outside of producing at a lower cost. The output is monitored and the OPEC is quick to react to a reduction in demand on their end.
I have looked at CNQ a few times over the past 10 years and I always end up passing on it. It's still a pass in my book.
DISCLOSURE: Please note that I may have a position in one or many of the holdings listed. For a complete list of my holdings, please see my Dividend Portfolio.
DISCLAIMER: Please note that this blog post represents my opinion and not an advice/recommendation. I am not a financial adviser, I am not qualified to give financial advice. Before you buy any stocks/funds consult with a qualified financial planner. Make your investment decisions at your own risk – see my full disclaimer for more details.
Join 5,500+ Investors & Build a Winning Portfolio