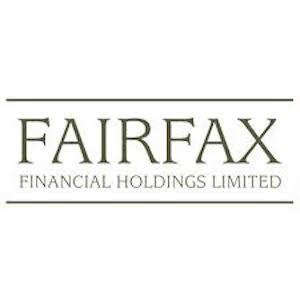 It is rare to find an investment that is both relatively safe and offers tremendous upside potential.
What if I told you that there was a smaller Canadian version of Warren Buffett's Berkshire Hathaway NYSE:BRK.B that has both of these characteristics?
The company I'm talking about is Fairfax Financial Holdings Ltd. They are a diversified insurance provider with a significant portfolio of common stock investments.
This post will examine the investment prospects of Fairfax in detail.
FFH – Business Overview
Fairfax TSE:FFH is a diversified insurance company with headquarters in Toronto, Canada. The present management has been in control of Fairfax since September of 1985.
Fairfax's operations are divided into two segments: insurance and investment management.
Their insurance operations include a variety of wholly-owned subsidiaries that are operated on a decentralized basis. Many of these wholly-owned subsidiaries are large in their own right, including Northbridge, OdysseyRe, Crum & Forster, Zenith National, and Brit Insurance (the newest addition to the Fairfax family).
Overview of Fairfax Insurance Operations
Fairfax's investment operations are led by the company's CEO, Prem Watsa, and are controlled through the operating subsidiary Hamblin Watsa Investment Counsel. Over the long-term, Fairfax has a stellar investment record, including successfully predicting the 2008-2009 housing crisis and profiting through the implementation of derivative contracts.
Fairfax's operations also have significant geographical diversification through their partial ownership of Fairfax India. Fairfax owns all of the multiple voting shares of Fairfax India, giving them full control of decisions at the smaller company.
This exposure to Fairfax India gives the company exposure to India's high-growth economy and should be a tailwind for this company in the years to come.
Fairfax has also recently filed for an IPO of Fairfax Africa, a company focused on investing in the growing African economy. Altogether, Fairfax offers a tremendous amount of geographic diversification for investors. 
Over the long run, Fairfax has done a tremendous job of building wealth for shareholders. Since the current management joined the company in 1985, Fairfax's book value has grown at a CAGR of 20.4%. Fairfax's stock price compounded at a CAGR of 19.4%, numbers which any investors should be happy about.
This tremendous historical performance is one of the reasons I became interested in this company, to begin with. Now I will move on to describe the investment prospects of this fantastic company.
Excellence in Insurance Underwriting
One of my favorite things about Fairfax as an investment is the terrific strength of their insurance operations. They consistently operate at an underwriting profit.
For example, consider the following table, which breaks down the company's insurance operations for the third quarter ending September 30, 2016.
Fairfax's numbers for both the quarter (91.3%) and the nine months (93.4%) are both very impressive.
For those unfamiliar with the insurance industry, the combined ratio is analysts' favorite measure of the profitability of insurance underwriters. It is calculated by dividend total claims paid by total premiums written, both in dollars.
A combined ratio below 100% means that the company made money on insurance operations and a combined ratio above 100% means that the company lost money on their insurance operations.
For insurers with a combined ratio above 100%, all of the company's profits come from investing the insurance float (essentially premiums collected that have not yet been paid as claims).
Insurance float gives the company free leverage and has propelled the investment returns of Warren Buffett's Berkshire Hathaway for decades. The Hamblin Watsa Investment Counsel has gained expertise in investing this insurance float over the years, but even they make mistakes.
Besides HWIC's expertise, Fairfax will inevitably encounter bear markets that hinder their investment income. This is why it's important that they make money on their insurance underwriting – so the company remains profitable in all economic conditions.
Reducing Their Exposure to Long-Term U.S. Government Bonds
For years, the majority of Fairfax's investment portfolio was composed of long-term U.S. government bonds. This has rewarded the company handsomely in the declining interest rate environment of the past decade (recall that interest rates and bond prices are inversely correlated).
Recently, this has changed. In the company's third-quarter earnings release, they stated the following:
"Subsequent to the end of the third quarter of 2016, on November 3, 2016, the company sold approximately 90% of its long-dated U.S. Treasury bonds."
After some digging, I found the transcript from the company's conference call on Seeking Alpha, where Fairfax's CEO Prem Watsa said:
"Well, Paul, thank you for that question. Yes, as we said, sold 90% plus of our treasury bonds and we made the point that the uncertainties in the U.S. election are the reason. We don't know who's going to win the elections, but you could have significant infrastructure spending, you could have that drop in corporate tax rates and while we think that might work in the short term in the long, we still have questions about that. But we do live in a mark-to-market world and we wanted to take that risk and so we've done that."
So the selloff in their long-term bond portfolio was in anticipation of the U.S. Presidential Election.
This was a tremendously intelligent move on the part of Fairfax. After the results of the election, there was a tremendous amount of "risk-on" sentiment in the North American financial markets, which resulted in the rise of the U.S. 10-year government bond yield by almost a full percent:
For a portfolio of bonds with a 10-year duration (which is a rough estimate of the duration of Fairfax's portfolio prior to the sell-off), this 1% increase in bond yields would have resulted in a ten percent decline in the portfolio's value. Ouch.
The fact that Fairfax successfully predicted this rise in bond yields is very impressive.
For current investors, it's important to remember that Fairfax now sits on a heap of cash that will be used for the Allied World acquisition (more on that later) as well as other future investments.
Acquisition of Allied World Insurance
On December 19th, 2016, Fairfax announced the acquisition of Allied World Insurance.
The transaction, which has been approved by the board of directors of both companies, values Allied World at US$4.9 billion and will have Allied World operating on a decentralized basis post-transaction. This suggests that Allied World will retain anonymity, but my suspicion is that the CEO of Allied World will report directly to Prem Watsa.
From a strategic point of view, this transaction makes a lot of sense. Allied World operates with a tremendous amount of operational efficiency, with an average combined ratio of 90.4% over the past 5 years. This operational efficiency aligns well with Fairfax's business model and should be complementary to the existing business.
This Allied World Acquisition should be a driver of growth for Fairfax shareholders moving forward.
Strong Downside Protection
As I mentioned in the introduction of this article, Fairfax is a relatively safe investment. There are three main reasons behind this.
First of all is Fairfax's strong insurance underwriting profitability. This will allow the company to remain profitable even when the financial markets are in a downturn.
Secondly, Fairfax's investment portfolio is focused on the preservation of capital. There is a large allocation to fixed-income securities, and the equity portion of the portfolio is partially hedged through the implementation of financial derivatives. Fairfax's investment managers remain focused on reducing downside risk.
Third, the company owns a portfolio of inflation-linked derivatives that will pay Fairfax massive sums of money of any of the major global economies experienced sustained deflation. The portfolio is summarized in the following diagram:
The process behind these derivatives was outlined in Fairfax's 2010 Annual Report when Prem Watsa said:
"Say the consumer price index in the U.S. was 100 when we purchased this contract. In ten years' time, if the CPI index is above 100 because of cumulative inflation, then our contract is worthless. On the other hand, if the index is below 100 because of cumulative deflation, then the contract will have value based on how much deflation we have had. If for instance, the index is at 95 because of a cumulative 5% deflation over 10 years, the contract at expiry would be worth 5% of the notional value of the contract. That's how it works!"
These inflation-linked derivatives will protect Fairfax in the event of a serious global catastrophe.
Final Thoughts
Fairfax has many of the characteristics of a solid investment.
They have significant upside potential through their portfolio of strong insurance companies as well as a new business through the acquisition of Allied World.
Fairfax also offers downside protection for investors via the use of equity hedges, a large fixed income allocation, and the use of CPI-linked derivative contracts.
Fairfax offers strong return potential and very low probability of capital loss. They are also trading well below their 52-week high of $780 (currently at $654). In my opinion, this company is a buy. 
Disclosure: The Financial Canadian is long FFH.
Join 6,000+ Investors & Build a Winning Portfolio