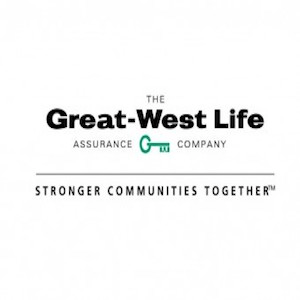 Great West Lifeco is a leading international financial services company providing life and health insurance, investment and retirement services, asset management and reinsurance business.
Great West Lifeco is a leading provider of individual life insurance with nearly three million individual life insurance policies in force. The company manages more than 31 million customer relationships worldwide and has so far paid over $32 billion in benefits to its customers. The U.S. is its largest market accounting for more than 70% of total sales. Great West Lifeco has operations in Canada (accounting for 43% of 2018 earnings), the U.S. (13%) and Europe (44%) which are also its reportable segments. In Canada, Great West Lifeco offers a broad portfolio of financial and benefit plan solutions for individuals, families, businesses, and organizations, through a network of multi-channel distribution network consisting of brokers, advisors and agencies.
Great West Lifeco operates through its subsidiaries, Great-West Life, London Life, Canada Life, Irish Life, Great-West Financial and Putnam Investments. Great Life Financial is one of the leading providers of employer-sponsored retirement savings plans in the U.S. The companies have over $1.4 trillion in total assets as of December 2018 and are members of the Power Financial Corporation group of companies. Lifeco recently announced its intent to amalgamate Great-West Life, London Life, Canada Life, and their holding companies into The Canada Life Assurance Company to simplify its business.
Investment Data
Revenue Growth & Market Exposure
With a history dating back 125 years, Great West Lifeco has nurtured deep relationships with its clients and distributors. The company is well-positioned to handle the diverse and changing needs of its customers, relevant at all stages of life. The company is investing in newer technologies to help customers connect better and meet the evolving needs of diverse customer segments.
Great West Lifeco has compounded its revenue at over 10% CAGR in the last five years. Other than providing traditional risk-based insurance products, the company also earns investment management fees on assets managed, ASO contracts, and other fees. Premium income accounts for 80% of Great West Lifeco's total income while fee and other income constitute over 10%. The company's portfolio is highly diversified by geography, channel, and type. Its wide range of products and services has made it a preferred partner of choice for millions.
Great West Lifeco has been investing continually towards strengthening and extending its existing businesses as well as capturing new growth opportunities. It is also broadening its offerings to include digitally enabled services for its customers. Focus on digital initiatives, strong capital position, and financial flexibility are the company's key competitive advantages.
As a part of its business transformation program, the company achieved annualized expense reductions of $209 million in Canada. It also sold off substantially all of its individual life insurance and annuity business in the U.S. to focus on the defined contribution retirement and asset management markets. Lifeco is also eyeing attractive M&A opportunities to remain ahead of the competition.
Dividends
Great West Lifeco has a consistent record of increasing dividend. It has a high dividend yield above 5.0% and a payout ratio of 56%. The company last raised its dividend by more than 6% and has also compounded them at 6.07% in the last three years. A strong and diversified business model, as well as well developed enterprise risk management capabilities, have aided Great West score industry leading credit ratings.
Great West Lifeco is a leading provider of individual and group customer insurance products. It enjoys a 36% market share of individual segregated funds and 21% market share for employee benefit plans. The company's reputation for prudent business practices as well as the depth and breadth of its products and distribution positions it well for 2019 and beyond.
Great West Lifeco has demonstrated sustained earnings growth driven by innovation and disciplined capital deployment. Its strong capital position and financial flexibility have helped the company increase its dividend payouts consistently. The company continues to invest strategically on both organic as well as acquisition opportunities to drive growth and productivity.
Competition
The individual insurance, group life and health benefits, savings and investment marketplaces are highly competitive. Great West Lifeco's main competitors include mutual fund companies, insurance companies, banks, and investment advisors as well as other service and professional organizations.
The company competes with large and small, national as well as international companies. New FinTech competitors have also increased competition. Great West Lifeco maintains a strong competitive position in the Canadian group market with a leading market share position and manages the largest portfolio of life insurance in Canada as measured by premium. It also continues to receive strong ratings relative to its North American peer group.
Bottom Line
Great West Lifeco is well positioned to serve an increasingly dynamic marketplace through innovative products and digital enhancements. A strong capital position and industry leading credit ratings should support long term growth of its business. Given its ability to generate ample free cash flows and maintain a decent growth rate, the company should increase its dividend payout at the same pace in the future as well.
It took GWO 6 years to start increasing the dividend after the financial crisis and the increases are barely above inflation. At this point, I prefer to focus on the banks. The yield makes it solely an income play and could be a good fit for a retirement portfolio but it seems the stock is in the dog house.
DISCLOSURE: Please note that I may have a position in one or many of the holdings listed. For a complete list of my holdings, please see my Dividend Portfolio.
DISCLAIMER: Please note that this blog post represents my opinion and not an advice/recommendation. I am not a financial adviser, I am not qualified to give financial advice. Before you buy any stocks/funds consult with a qualified financial planner. Make your investment decisions at your own risk – see my full disclaimer for more details.
Join 6,000+ Investors & Build a Winning Portfolio