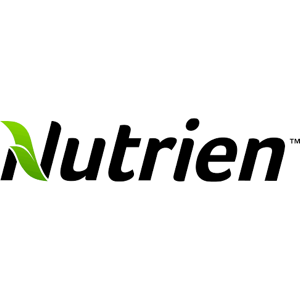 Nutrien is the world's largest provider of crop inputs, services, and solutions to agriculture companies, helping them to produce better food crops. Nutrien produces and distributes over 27 million tonnes of potash, nitrogen and phosphate products for agricultural and industrial purposes. It is the largest global potash producer with over 13 million tonnes in annual product sales and the third largest nitrogen producer globally. Nutrien was formed as a result of the merger between PotashCorp and Agrium in January 2018.
Nutrien has operations in 14 countries in the Americas, Europe, Asia, Africa, and Australia. The company operates a leading agriculture retail network of over 1700 retail locations that connects more than 500,000 crop growers in seven countries across the Americas and Australia.
Nutrien's portfolio comprises of high quality and low-cost production assets. Its business units are – retail (28% of 2018 EBITDA), potash (38%), nitrogen (29%) and phosphate (5%). In all, Nutrien has 28 production facilities with 20.6 Mmt KCI capacity, 7.1 Mmt gross ammonia capacity, and 3.2 Mmt phosphate capacity.
Investment Data
Revenue Growth & Market Exposure
Nutrien provides complete agricultural solutions to its customers, including nutrients, crop protection products, seed, services, and agronomic advice to growers. Nutrien's retail operations offer farmers a complete range of seed, liquid and dry fertilizer products. More than 15% of its sales come from high-margin proprietary products.
The demand for food is expected to increase exponentially with the population expected to cross 10 billion people by 2050. Strong focus on healthier and more nutritious food compels Nutrien to explore innovative ways to increase quality food production. The company is constantly expanding its line of higher-margin proprietary crop protection and seed products for the growers. In this regard, Nutrien acquired 53 locations in 2018 and has 10 greenfield facilities in various stages of completion.
As the world's largest direct-to-grower provider of products, services, and solutions, Nutrien has built strong customer relationships over the years. Customers depend on Nutrien for its good quality products, consistent and efficient delivery, and long-term industry experience. Nutrien sold about 3 million tonnes of crop nutrients to North American Retail in 2018. Its unique integrated platform offers efficient delivery of crop inputs to the growers.
Nutrien came into existence as a result of a merger between PotashCorp and Agrium. The merger has already started to bear fruit for the company, with a reduced cash cost of the product manufactured in the Potash business unit and improving cost and utilization rates in the Nitrogen business. Nutrien's revenues have grown at 46% CAGR in the last three years.
Dividends
Nutrien is a shareholder-friendly company returning its excess capital to shareholders in the form of dividends and share repurchases. It paid $2.8 billion in dividends and share repurchases in the last year, representing 58% of total capital deployments. Nutrien grew its dividends by 17% in 2018 and extended its existing share repurchase program to 8% from 5% of outstanding common shares. The company has an attractive yield of 3.6% and a reasonable dividend payout ratio of ~47%. Nutrien has compounded its dividend payout at 17% CAGR, over the last decade, though the pace of growth has reduced in recent years.
Nutrien has a stable earnings base, thanks to its scale and a diversified integrated portfolio. Its businesses are also well balanced and diversified, which helps to mitigate fluctuations in any particular line of business and provide multiple avenues for growth. The company is favorably placed to gain from a growing demand for its crop inputs, services, and agricultural solutions. Trends like increasing global crop input expenditure are also supportive of the company's future growth.
The company has already delivered $500 million in annual run-rate synergies within the first 12 months after the merger and has raised its target to $600 million by the end of 2019. Nutrien is targeting to give away 40%-60% of its free cash flow as dividends to its shareholders. The company is expecting strong future growth to come from its retail business unit.
Competition
Nutrien operates in a highly competitive retail operating environment. It competes with large national retailers, co-operatives and smaller independent operations in North America and Australia and with smaller independent owners in Brazil. In the Potash segment, Nutrien's primary competitors are located in Belarus, Canada, Germany, Israel, Jordan, and Russia. Similarly, for its Nitrogen line of business, Nutrien competes with other producers in Canada, the US and a number of offshore suppliers. The company, however, enjoys a large scale, market and cost advantages that provide a deep moat around its business.
Bottom Line
Nutrien plays a critical role in feeding the future as the largest provider of crop inputs and services globally. It is in a good position to leverage its leading footprint in the world's largest markets and benefit from the rising food demand in the future. The company has unique opportunities to benefit from the growing agriculture and fertilizer markets and generate superior returns through the cycle.
DISCLOSURE: Please note that I may have a position in one or many of the holdings listed. For a complete list of my holdings, please see my Dividend Portfolio.
DISCLAIMER: Please note that this blog post represents my opinion and not an advice/recommendation. I am not a financial adviser, I am not qualified to give financial advice. Before you buy any stocks/funds consult with a qualified financial planner. Make your investment decisions at your own risk – see my full disclaimer for more details.