Investing in Gold can be seen as a safe haven for many when confidence is low in the markets and in the economy. Gold value per ounce is a regular metric being shared globally through daily news alongside your country's currency and oil prices.
Regardless of your motivation to invest in gold, there are a number of ways to be exposed to gold; from buying gold bullion to investing in gold mining companies to investing in precious metal ETFs. In some cases, you can even have a dividend paying gold mining stocks.
Invest in Gold Dividend Stocks
Barrick Gold
Barrick Gold is a leading gold mining company in the world. The company engages primarily in gold and copper operations as well as exploration and mine development. Barrick Gold's recent merger with Randgold Resources has created a sector-leading gold mining company. Barrick Gold owns five of the world's Top 10 Tier 1 gold assets such as Cortez and Goldstrike in Nevada, USA and Kibali mine in Africa. The company has mining operations in 15 countries, including Argentina, Australia, Canada, Chile, the US, Saudi Arabia, Zambia, etc. Barrick Gold sells its products in the world market through different distribution channels like the gold spot market and independent smelting companies. The company is the owner of a diversified asset portfolio located in many of the world's richest gold areas. Barrick has the lowest cash cost position amongst its peers.
Investment Data
---
Goldcorp

Goldcorp is a leading gold producer focused on responsible mining practices, with production from a portfolio of long-life, high quality assets throughout the Americas, which the Company believes positions it to deliver long-term value.
The Company's principal producing mining properties are comprised of the Éléonore, Musselwhite, Porcupine and Red Lake mines in Canada; the Peñasquito mine in Mexico; the Cerro Negro mine in Argentina; and the Pueblo Viejo mine (40.0% interest) in the Dominican Republic. The Company's significant projects include the Borden, Century Gold and Coffee projects in Canada, and the NuevaUnión (50% interest) and Norte Abierto (50% interest) projects in Chile.
The Company's current sources of operating cash flows are primarily from the sale of gold, silver, zinc, copper and lead. Goldcorp's principal product is refined gold bullion sold primarily in the London spot market. In addition to gold, the Company also produces silver, zinc, copper and lead primarily from concentrate produced at the Peñasquito mine, which is sold to third party smelters and refineries.
Goldcorp has an investment-grade credit rating, supported by a strong balance sheet, and remains 100% unhedged to gold sales, providing full exposure to gold prices.
Investment Data
---
Franco-Nevada

Franco Nevada is the leading gold-focused royalty and stream company. It is the largest company by both gold revenue and the number of gold assets. The company provides financing to miners in exchange for the right to buy gold at contractually discounted rates in the future and in return gets access to precious metals without any mining work. Franco Nevada is the world's largest and most successful gold royalty company. The company's portfolio is highly diversified by commodity, geography, revenue type, and projects. Franco Nevada has interests in 227 exploration stage mineral properties including 202 precious metals assets and 25 other exploration assets. Over 88% of Franco's revenue (Q1 2019) was derived from gold and gold equivalents (63% gold, 11% silver, 11% PGM and 3% other mining assets) and 12% from energy (oil, gas, and NGLs). Geographically, Americas is its largest market accounting for over 80% of total revenues - 42% Latin America, 18% U.S. and 20% Canada, followed by the rest of the world.
Investment Data
---
Agnico Eagle Mines
Agnico Eagle is a leading gold miner having an extensive experience of more than 60 years. The company has mines in Canada, Finland, and Mexico. Agnico's exploration activities are conducted across these countries as well as in the US and Sweden. The company focuses on low cost high potential regions to drive future growth. Agnico has a sound track record of exceeding its production targets. It produced 1.63 million ounces of gold and outperformed its cost guidance by approximately 2% in the last year. As an operator of high-quality gold mining business, Agnico has superior quality gold reserves and its gold grade is more than double that of its peers in North America. The company is expecting to drive a new growth phase, over the next five years, on the back of its current project pipeline. It provides its shareholders with full exposure to gold prices.
Investment Data
---
Invest in Gold ETFs
Above is just a few of the gold producing companies out of many. Barrick, Franco-Nevada and Goldcorp are really the top three major dividend paying stocks if you want to invest in individual stocks.
If you are just getting started with gold, it might be easier to just get a gold ETF and buy a little bit of the many gold producers through an ETF. XGD from iShare tracks the S&P/TSX Global Gold Index Fund and contains 59 holdings. The index is down 26% from a year ago, down 3% from 5 years ago and up 105% from 10 years ago. The rule of 7 says you should double every 7 years with a 10% compound growth. Doubling your money in 10 years is not that bad but you obviously need to have a good stomach for the ride.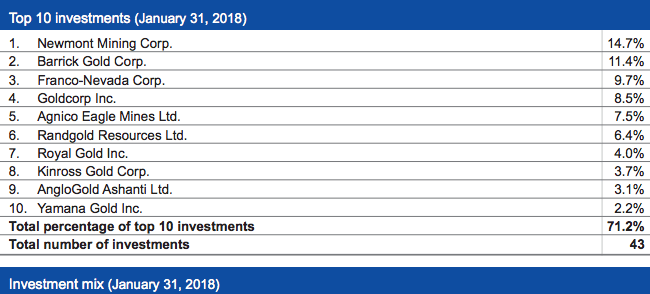 Invest in Gold Bullion
If you want to own gold as is, then the bullion is for you. Investing in gold bullion is similar to buying currency in a way. You buy it at a certain price and hold it until you want to sell. Gold prices fluctuate over time and it's rated by the ounce.
To buy gold bullion, you can always use the Canadian Mint. There is a lot of information for buying, storing and trading precious metals with the Canadian Mint.

Sector Classifications
Sector classification is driven by a set of standards across North America, stock market and indexes. There is a specific company classification referred to as NAICS (North American Industry Classification System) managing a set of classifications. Statistic Canada is also a partner with defining the NAICS with company counts for different classifications.
While the company classification is critical to understand the evolution of industries, it is by far too detailed to manage for investors and all companies can be grouped under a sector. The best visual tree I could find is under Wikipedia's Global Industry Classification Standard.
| Sectors | Industries |
| --- | --- |
| Basic Material | Chemicals, Construction Materials, Containers & Packaging, Metals & Mining, Paper & Forest Products |
| Communication Services | Diversified Telecommunication Services, Wireless Telecommunication Services |
| Consumer Cyclical | Auto Components, Automobiles, Household Durables, Leisure Products, Textiles, Apparel & Luxury Goods, Hotels, Restaurants & Leisure, Diversified Consumer Services, Media, Distributors, Internet & Direct Marketing Retail, Multiline Retail, Specialty Retail |
| US Consumer Defensive Sector | Food & Staples Retailing, Beverages, Food Products, Tobacco, Household Products, Personal Products |
| Canadian Energy | Energy Equipment & Services, Oil, Gas & Consumable Fuels |
| Financial Services | Banks, Thrifts & Mortgage Finance, Diversified Financial Services, Consumer Finance, Capital Markets, Mortgage Real Estate Investment Trusts (REITs), Insurance |
| US Healthcare | Health Care Equipment & Supplies, Health Care Providers & Services, Health Care Technology, Biotechnology, Pharmaceuticals, Life Sciences Tools & Services |
| US Industrial Sector | Aerospace & Defense, Building Products, Construction & Engineering, Electrical Equipment, Industrial Conglomerates, Machinery, Trading Companies & Distributors, Commercial Services & Supplies, Professional Services, Air Freight & Logistics, Airlines, Marine, Road & Rail, Transportation Infrastructure |
| Canadian Real Estate | Equity Real Estate Investment Trusts (REITs), Real Estate Management & Development |
| US Technologies | Internet Software & Services, IT Services, Software, Communications Equipment, Technology Hardware, Storage & Peripherals, Electronic Equipment, Instruments & Components, Semiconductors & Semiconductor Equipment |
| Utilities | Electric Utilities, Gas Utilities, Multi-Utilities, Water Utilities, Independent Power and Renewable Electricity Producers |
DISCLOSURE: Please note that I may have a position in one or many of the holdings listed. For a complete list of my holdings, please see my Dividend Portfolio.
DISCLAIMER: Please note that this blog post represents my opinion and not an advice/recommendation. I am not a financial adviser, I am not qualified to give financial advice. Before you buy any stocks/funds consult with a qualified financial planner. Make your investment decisions at your own risk – see my full disclaimer for more details.