The S&P500 Dividend Aristocrats is the best list for filtering dividend stocks. This should be your starting point to create your core portfolio. Why should it be part of your core portfolio? It's simple, the companies in the list must have increased their dividends every year for 25 years.
Many of those companies also exhibit consistent growth in value which is what you want along with dividend growth. Dividend investing can be many things and when I started, I looked for high yields but I have since adapted my strategy to look for dividend growth stocks with a double-digit dividend growth history. There are many other reasons why my filtering start with dividend companies, see my post on why I chose dividend investing.
S&P500 US Dividend Aristocrats Requirements
The following criteria must be met to become a S&P500 Dividend Aristocrat:
Universe: Member of the S&P 500
Financial Viability: Must have increased dividends for 25 consecutive years
Size: Have at least 3B$ in market capitalization
Liquidity: Must have an average trading volume of US$ 5 million in the past 6 months
Here are specifics about the list itself:
Reconstitution: The index is reviewed annually
Stock Diversification: At each review, there must be at least 40 companies
Sector Diversification: No more than 30% of a sector weight in the index
Many of the companies you are going to see have paid dividends for longer the 25 years and some have increased dividends for more than 25 years as well. That's quite a commitment to shareholders. Below is the complete sector breakdown for the aristocrats.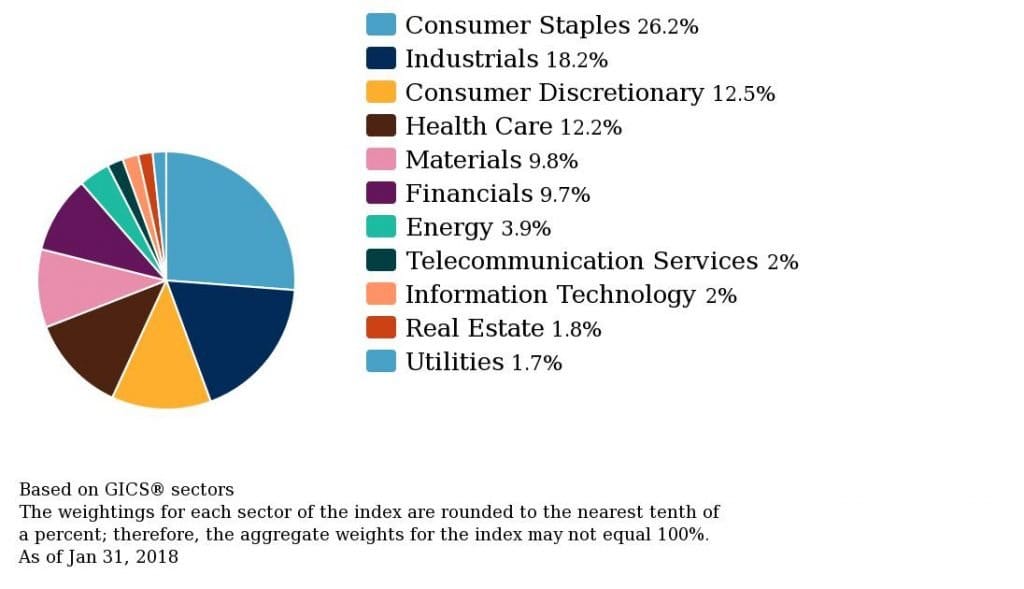 S&P US Dividend Aristocrats List
The constituents are listed below. See the Dividend Ambassadors for the best dividend growth aristocrats as not all dividend aristocrats grow their dividends at the same rate.
November 2018 Update
Praxair merged with Linde and the new ticker is LIN.
February 2018 Update
In 2018, C.R. Bard was removed from the S&P Aristocrat Index after it was acquired by Becton-Dickinson.
On January 24th, 2018, Praxair, Roper Technologies, and A.O. Smith were added to the USDividend Aristocrats Index.
DISCLOSURE: Please note that I may have a position in one or many of the holdings listed. For a complete list of my holdings, please see my Dividend Portfolio.
DISCLAIMER: Please note that this blog post represents my opinion and not an advice/recommendation. I am not a financial adviser, I am not qualified to give financial advice. Before you buy any stocks/funds consult with a qualified financial planner. Make your investment decisions at your own risk – see my full disclaimer for more details.
Join 5,500+ Investors & Build a Winning Portfolio