I finally made the switch! In fact, I had originally applied a year ago but never got around to sending a cheque to activate the account. I was determined to not have bank fees, not be held hostage by needing to have a few thousands in the account and benefit from the wonders of technology for free electronic transfers.
It feels good! The switch works with one exception, I don't have a line of credit at Tangerine and you need a mortgage there to have a line of credit. I tried getting one at RBC but I was faced with the problem of already having to access too much credit. For someone with a great credit who pays the bills on time, I thought it was interesting what the tightening of rules does.
My Money Flow – Start With No Bank Fees
Nothing beats a picture so I'll have start with that. It starts with no bank fees at Tangerine and ends with a small bank fee at ScotiaBank for now.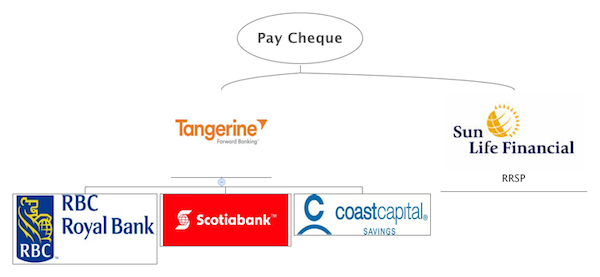 Out of all those accounts, I only pay fees at ScotiaBank. I used to have the ScotiaOne account but with my changes, I have changed it to the basic account which has the lowest fee. Until I can have a line of credit elsewhere, I need a basic account to move money around.
I am super impressed with Tangerine's ability to transfer money around. I was sold on the free email money transfer but it turns out that I can just add my other bank accounts, valid them with a cheque deposit of $1 and the account is set for transfer. I no of no other banks that can provide that.
RBC is necessary for accessing RDB Direct Investing and transferring money. The good thing is that it's free to have the account for me as I meet the minimum requirements of funds and number of accounts. I have my kids account there too.
ScotiaBank is where I have my mortgage and superb VISA Momentum Cash Back credit card.
Coast Capital Savings is where my wife account is at. It's a true no fee chequing account. It was my initial plan to use a no fee chequing account but it was too hard to transfer money I found.
Tangerine Freedom – Steps For Switching Banks
Here are the steps I went through. My Orange Key is 38025164S1 if you want to open an account with a bonus!
Step 1. Open the account in your new institution (hopefully Tangerine with my Orange Key – thank you for the support)
Step2. Setup all your payments such as credit cards and utility bills
Step3. Setup your email alerts if provided
Step4. Order your cheques (yes, you still need cheques in this world. Wait until you have kids …)
Step5. Once you are all set up with your cheques in both institutions, you can then change your pay deposit at the same time as you change your mortgage payment account.
As you can see, it's pretty easy to switch. I am also not held hostage by keeping cash in an account to avoid fees.